VPN for Firestick, Fire TV, Fire TV Cube

This step-by-step VPN for Firestick tutorial will walk you through the setup process through a video or screenshot guide below.
This same process will also work on the Fire TV Stick 4K, 2nd Generation Fire TV Stick, Fire TV Cube, Fire TV, and Fire TV televisions.
The VPN application that I use in this tutorial, IPVanish VPN, is specifically designed and optimized for the Fire TV Stick, Fire TV, and Fire TV Cube. It is also recognized as the world's fastest VPN which is the most important feature since we are using it to stream large HD video files.
Why would you want to set up a VPN for your Firestick for Fire TV? So that your Internet service provider (ISP), government, hackers, and other organizations can't monitor and log what you are streaming or downloading.
A VPN will encrypt your connection to the Internet and create an anonymous connection through a private IP address, which will hide your identity and activity.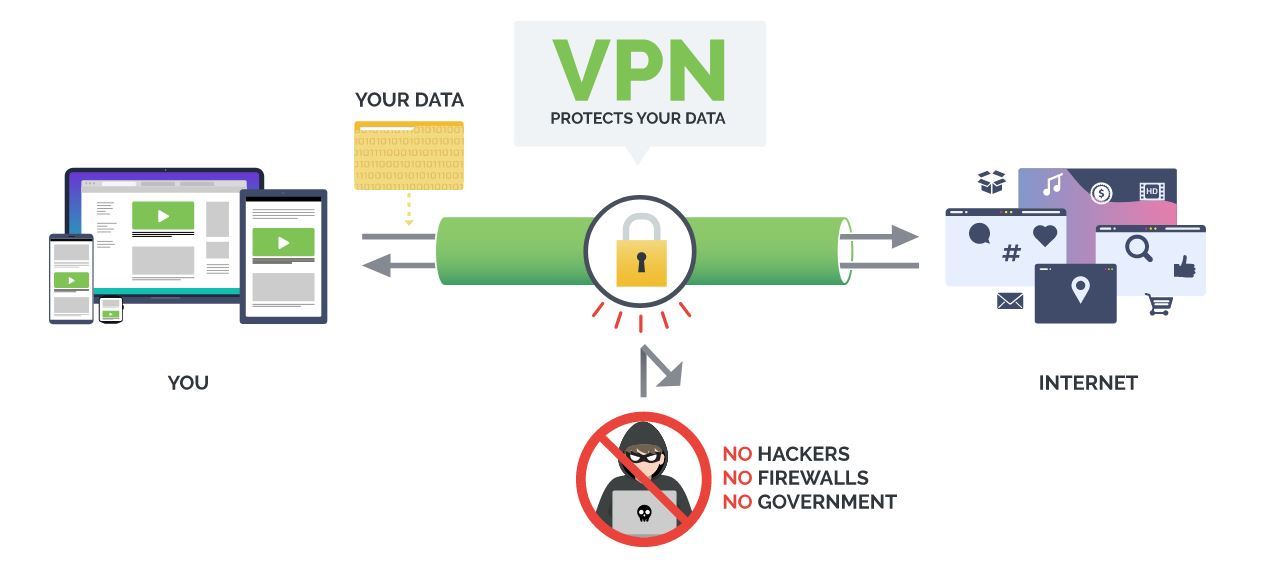 A VPN may increase your streaming speeds because many Internet providers impose throttling methods for various apps such as Kodi, Cinema APK, Cyberflix TV, Mobdro, IPTV, etc. A VPN will eliminate ISP throttling and allow you to connect at speeds that will stop buffering on the Fire TV or Fire TV Stick.
Another reason to use a VPN on your Amazon Firestick or Fire TV is to have the option of accessing sites or streams that are only available to people in certain geographical regions. IPVanish VPN will give you the option of connecting through 1,000+ servers that are located in 60+ countries around the world.
Internet companies are cracking down on those who use various streaming apps to access video streams that are readily available on the Internet. Many Internet companies also serve as cable television providers, which means less money for them.
Your ISP may threaten to shut down your Internet connection if they don't like what you are accessing through your Amazon Firestick, Fire TV, Fire TV Cube, or any Internet-connected device.
A VPN service will protect your identity and make it impossible for your ISP, government, hackers, or any other 3rd party from seeing what you are streaming or downloading.

What Is Best VPN For Firestick & Fire TV

Fastest VPN for Firestick & Fire TV
I have used over a dozen VPN services during the past seven years and I finally came across one that works very well with all models of the Fire TV. One of the most important features to look at when comparing VPN services is download/streaming speed. No matter which VPN service that you choose, you will notice a drop in your download speed due to the fact that your traffic is routed through a separate VPN server.
IPVanish provides the best download speeds when compared to their competitors and they do not keep any traffic logs of what you stream/download or access on the Internet.
Specifically Designed App for Firestick & Fire TV
IPVanish VPN has recently come out with a new application for the Firestick, Fire TV, and Fire TV Cube that works excellent with a remote control. The new user interface makes it simple to use a VPN on your Fire TV device. Most VPN services do not provide a Fire TV/Fire TV Stick application which makes IPVanish the preferred choice due to its ease of use.
IPVanish does not keep track of any traffic logs so if they were ever requested to provide your streaming history, it doesn't exist.
Not only do I use a VPN on my connected devices in my home, I also use it when I am traveling. You should NEVER connect to a public WiFi hot-spot without protection through a VPN service.
IPVanish will allow you to use their VPN service on ten devices at the same time with one account. This is great for those of us who use a VPN service on our computer, phone, and Fire TV or Stick.

Use IPVanish VPN on up to 10 Devices Simultaneously
IPVanish also provides applications that can be used on Windows, Mac, Linux, Android, and iOS. The mobile applications for both Android and iOS are outstanding. Due to their large ecosystem of supported operating systems, you can use your account on your different devices.
If you ever travel and connect to public WiFi hot-spots, you should ALWAYS connect to the access point through a VPN service. You can use your same IPVanish account on your other devices which is a great benefit.
How To Install VPN For Fire TV Stick/Fire TV Through Downloader App
If IPVanish is not available in Amazon App Store on your Fire TV model, you may install it through Downloader by following these instructions.
If IPVanish is available in Amazon App Store search for IP Vanish using the magnifying glass in the top left and download/install the app. Then go to step 10.
1 Hover over search icon on Firestick/Fire TV Home Screen and type in "Downloader"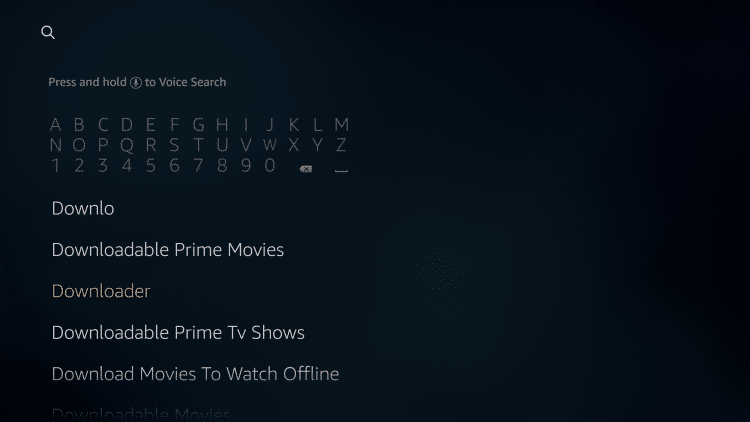 2 Click Downloader to download the app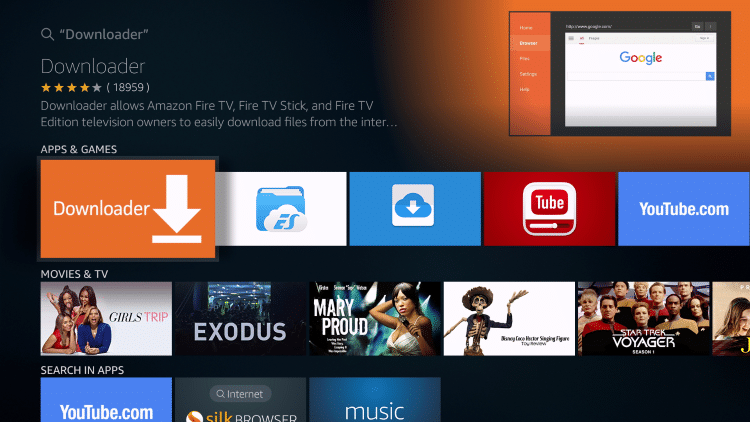 3 Click "Download"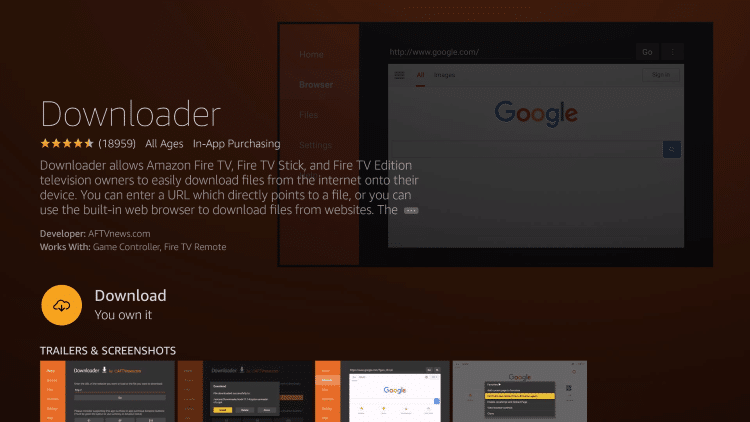 4 Click Open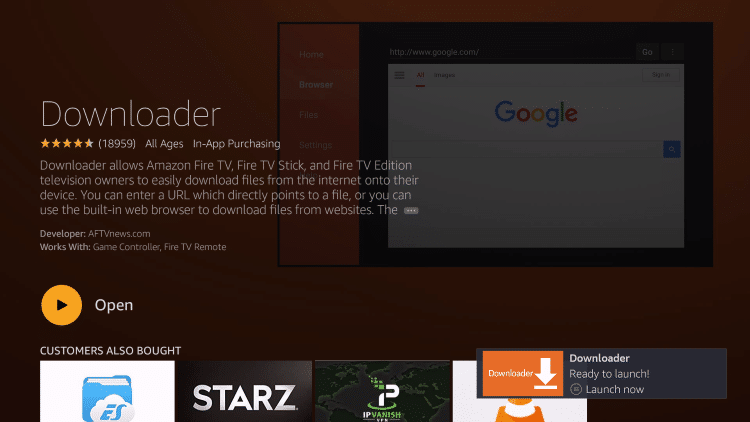 5 Click Allow for Downloader to access files on your device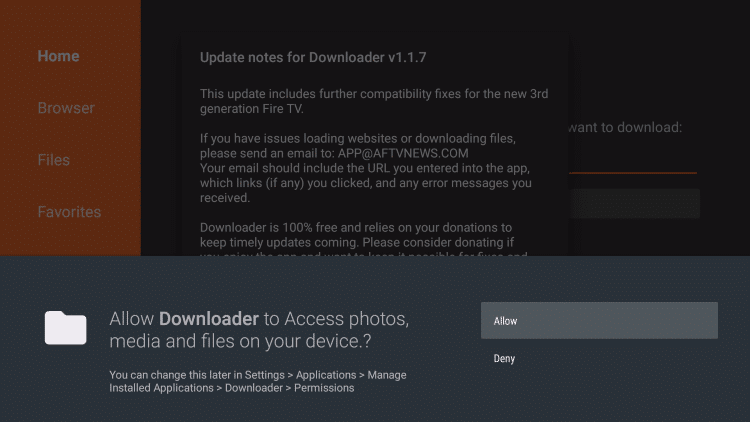 6 Click OK for update notes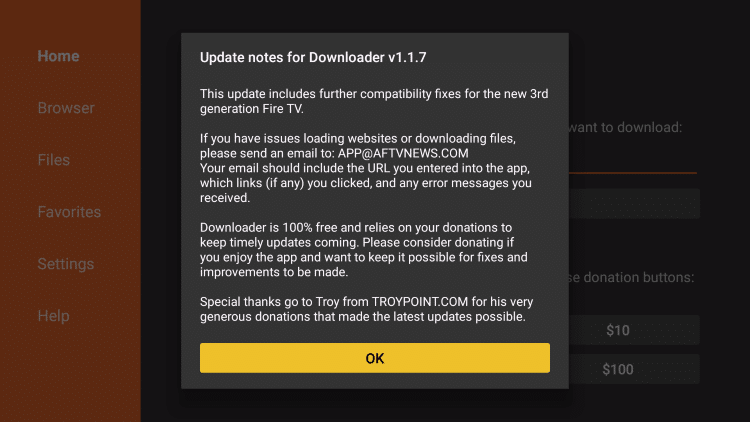 7 Type in the shortcode https://troypoint.com/ipv and click Go

8 Click Install

9 Click Open

10 Input your IPVanish VPN Username & Password – Register Here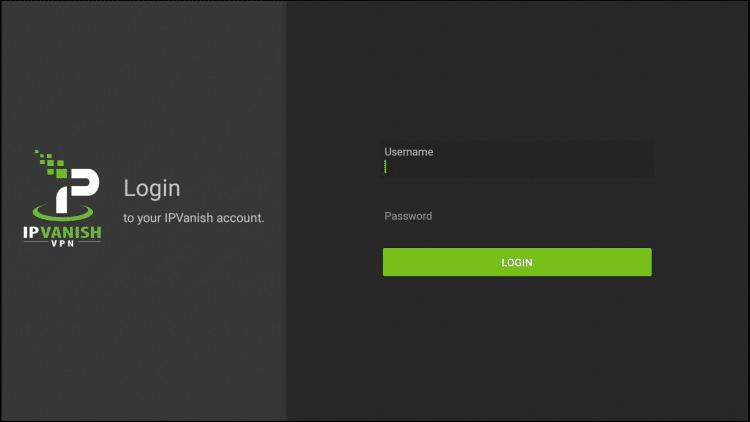 11 Click Connect


Available IPVanish VPN Settings for Firestick & Fire TV
Note: If you don't see some of these settings in your IPVanish app this means that you don't have the most recent update. I suggest uninstalling your current app Fire TV Settings / Applications / Manage Installed Applications / IPVanish / Uninstall. Then, reinstall the app.
To access the settings section, click the gear icon in top-right corner.

Start IPVanish will automatically launch the application when the Firestick or Fire TV is turned on. I leave this off because there are some applications that I don't use the VPN with.

Auto Reconnect will automatically re-connect the VPN if it is terminated for some reason unexpectedly. I keep this option turned on to allow for maximum protection in case the VPN disconnects for some reason.

Allow LAN access when turned on will not route local are network traffic through the VPN. I keep this turned on so that I can connect to the Firestick or Fire TV through the network with various apps such as Plex Media Server or Amazon Fire TV Remote control app.

Split Tunneling allows the user to choose applications that can connect to the Internet without being routed through the VPN. This is handy when using applications that don't allow for VPN use such as Netflix. This feature is still in its infancy and may not work properly on all Fire TV models yet.

Once inside the Split Tunneling settings, you can check which apps don't require VPN protection. Click the three vertical dots in top-right corner will allow you to show system apps such as Prime Video so you can activate this feature for those as well.

Show system apps button.

System apps are displayed after enabling "Show system apps".

Scramble adds obfuscation to Open VPN which may allow it to bypass Websites or services that block VPNs. I keep this off unless there is a site or service that is blocking my VPN where this setting circumvents the action.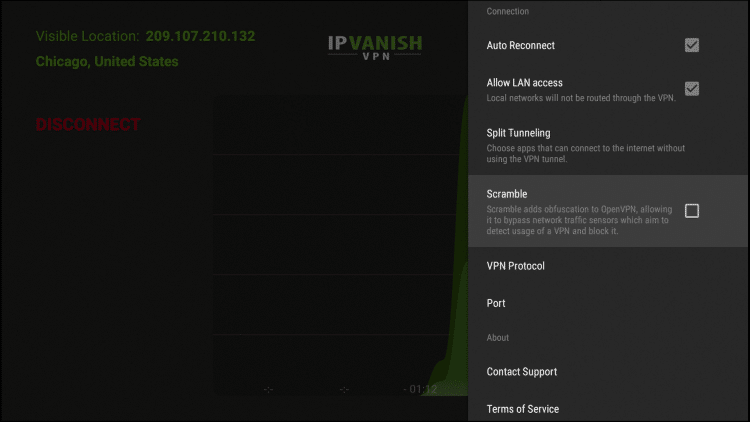 VPN Protocol is the connection protocol used by the application.

OpenVPN (TCP) and OpenVPN (UDP) are the available settings for VPN Protocol. UDP usually provides much faster download speeds when using a VPN so I recommend that option. If your VPN app is not connecting, it may help switching your connection protocol in this section.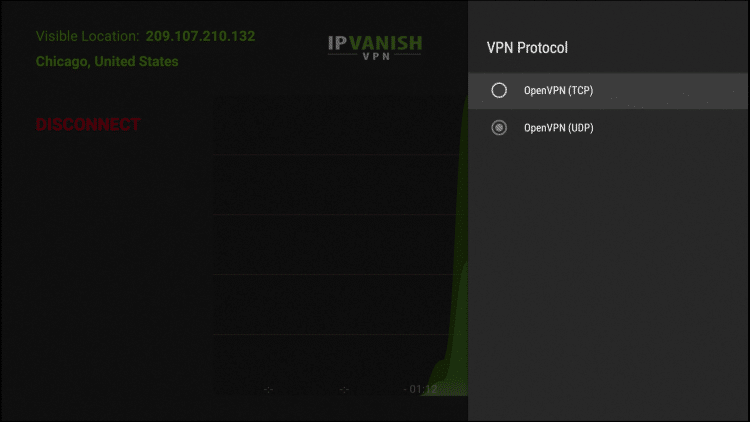 Port is the tunnel through which your Internet traffic moves.

Port 443 is optimal since this is usually used for HTTPS traffic and may help get around various blocks. I suggest leaving this setting on 443 unless directly by IPVanish staff to change it.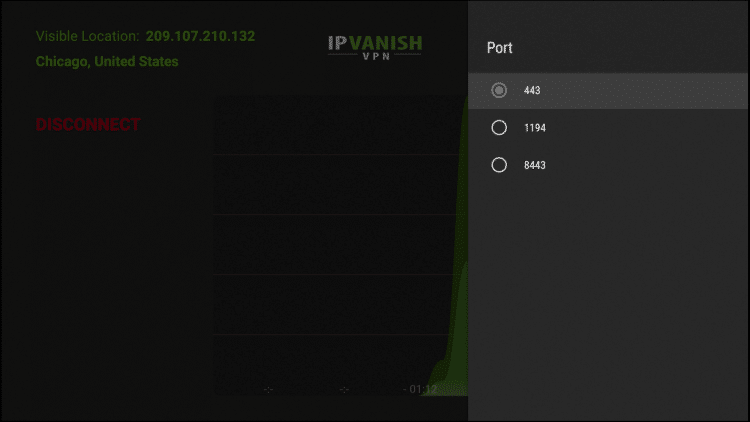 Contact Support will direct you to the IPVanish support information.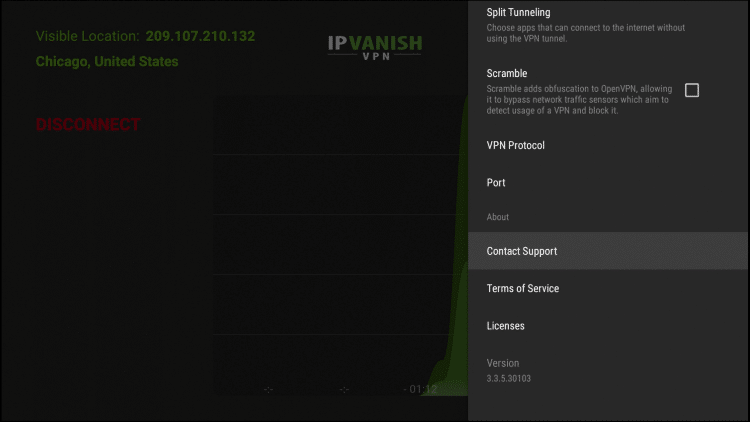 Terms of Service provides their most recent document.

Licenses provides a document with the licenses used within the application/service.

General Firestick VPN Troubleshooting Tips
Most of you will never need these, but just in case I have you covered.
If your IPVanish Firestick/Fire TV/Fire TV Cube VPN application is not connecting, to into Settings / VPN Protocol and change to OpenVPN (TCP) or OpenVPN (UDP), whichever one isn't currently active
Restart both your Fire TV/Stick and router by unplugging from power, let sit for a minute and then plug back in.
If your download speed seems slow or you are experiencing buffering, choose a different server, close to where you are located within the VPN application. Keep in mind that there are multiple servers available for each location and you can try each of them to see which provides better results.
If you are having problems logging into IPVanish VPN, double check that there are no spaces within the email address that you use as your login. Sometimes a space is automatically added following the @ symbol.
Uninstall the IPVanish VPN App on the Fire TV or Fire TV Stick by going into Settings / Applications / Manage Applications / IPVanish and then click uninstall. After you have removed the VPN, reinstall with the guide above.
If the IPVanish application doesn't appear in Amazon App Store on your device, follow the screenshot guide above for installing through Downloader app.
If you forgot or lost your IPVanish password, you can reset it by clicking the "Forgot Password" link within the login area on the IPVanish Website.
No VPN will work on 1st Generation Firestick (released in 2014) due to low processing power.
How To Install NVIDIA SHIELD VPN Guide
Screenshot Guide
Step 1 – Register for your IPVanish account by using the special discount link below.
Click Here for Exclusive IPVanish Discount
Step 2 – Open Google Play Store on NVIDIA SHIELD.

Step 3 – Click Search icon.

Step 4 – Type "ipvanish" into search box and click Search button on keyboard.

Step 5 – Click IPVanish VPN.

Step 6 – Click Install.

Step 7 – Enter account credentials & click login

Step 8 – Type in Username & Password and click Next.

Step 9 – Click Connect button.

Step 10 – IPVanish VPN is now connected and you are protected. Click Home Button on remote to return to home screen and start using your NVIDIA SHIELD.